Dominican Republic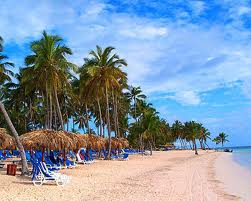 National Palace in Santo Domingo is the gem of the Dominican Republic. Its building is a emblem of the sovereignty of the country, and thus one of the most attended by tourists places.
Punta Cana Beaches – an exotic destination, always burning hot, and it is not about only the weather. Because of the many palms out there one may feel like he is the only vacationer in a personal heaven. Soft sand and clear water, natural tranquillity, make one forget that there is anything besides Punta Cana.
Ozama Fortress is a mideaval fort designed to defend one of the first ports. It was used as a prison until the twentieth century. Nowadays Ozama is a symbol of the European invasion into the New World.
Altos de Chavon is one of the greatest places of interest in the Dominican Republic. It is an actual recreation of European medieval city. Take a walk through old narrow streets, visit Roman amphitheatre, the fountain and the lovely terrace where you will remain breathless by the view towards river Chavon.
Anosther places to visit include Jaragua National Park, Samana Bay, Bonao, Columbus Lighthouse Monument.