Amsterdam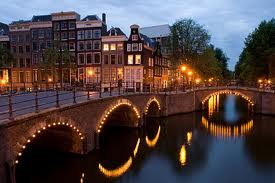 Amsterdam puts together various things, from classic architecture to tolerant beliefs. Activities that are unacceptable in other cultures are accepted here unless they do harm to society, or are less harmful allowed and controlled.
Numerous canals crossed by bridges were built in order to keep the sea at the bay. The canals provide a great basis for the Museum's Quarter arty locales, the Jordaan and the Pijp. The most popular canal is Prinsengracht.
Finally, the Red Light district. But when you visit it, you discover that the reality is a bit different from what is known about it around the world. It is like a miniature version of Las Vegas. Sex shops are selling blow-ups and dildos, and many other outrageous toys. In fact it is the oldest part of the city situated in a rough triangle formed by the Central Station.